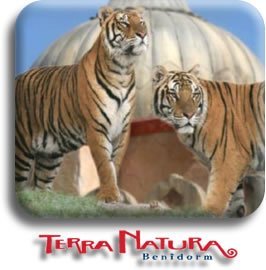 COMBINED ENTRANCE TO TERRA NATURA & AQUA NATURA
Terra Natura is a new-generation wildlife park where you can discover the "Zooinmersion" experience -a new concept in habitat design which will enable you to come into contact with the animals as if there were no barriers between you- at least no visible ones! The 320,000 square metres of the Benidorm park are divided into four themed areas: Pangea, which is the area at the entrace to the park, America, Asia and Europe.

At Terra Natura Benidorm you can see more than 1,500 animals from 200 different species, 50 of which are in serious danger of extinction, and over 2,500 examples of more than 160 species of trees, shrubs and ground cover plants from these regions. As well as the hugely varied collection of wildlife, our educational information (through placards with biological details and information points), the architectural theming and the range of shows, entertainment and adventure activities make Terra Natura the venue of choice for families looking to spend an interesting and entertaining day in a natural setting.
Enjoy the
FREE ZOOTOUR
, a guided tour which takes place daily from 12:30 until 14:00, only in
Terra Natura Benidorm,
followed by the
Sea Lion show
at 15:45.
When you purchase from this web site you have a discount of 5€ for adults and 5€ for children.  

Terra Natura.
Address;- Foia del Verdader 1, 03502 Benidorm, Alicante, Spain.
Opening: Tierra Natura opens all year round from 10:30 a.m, Aqua Natura opens May to September.
Children 4 to 12 years.
Tickets are valid for one week from the specified date, allowing you to choose the day of your excursion.
Tickets must be purchased a minimum of 1 day in advance.
IMPORTANT:- Please ensure that you print your ticket from the screen or from the e-mail which will be sent to your e-mail account.  You need to present this to gain entrance to the Parks.
Click to enlarge.