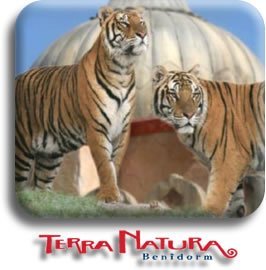 COMBINED ENTRANCE TO TERRA NATURA & AQUA NATURA
Tickets for both  parks, Terra Natura & Aqua Natura in Benidorm.
Terra Natura Benidorm has more than 1.500 animals of 200 different species. 
Discover elephants, lions, tigers, rhinoceroses, jaguars, crocodiles, titis, camels, reptiles, primates, exotic birds, small mammals, and farm animals.  
Terra Natura is the perfect option for families looking for a day out in a natural environment. 
Aqua Natura Water Park in Benidorm is entertainment for all the family.
Discover La Cresta, an enclosed water slide 15 meters, high that allows you to experience weightlessness.   Other attractions include the meandering Aqua Snake, the Rio Adventure descent, and half a dozen other unique attractions.
Try one of the unforgettable experiences at an additional cost, while in Aqua Natura such as the sea lion experience or the school for mermaids and mermen!
When you purchase from this web site you have a discount of 5€ for adults and 5€ for children.  

Terra Natura.
Address;- Foia del Verdader 1, 03502 Benidorm, Alicante, Spain.
Opening: Tierra Natura opens all year round from 10:30 a.m, Aqua Natura opens May to September.
Children 4 to 12 years.
Tickets are valid for one week from the specified date, allowing you to choose the day of your excursion.
Tickets must be purchased a minimum of 1 day in advance.
IMPORTANT:- Please ensure that you print your ticket from the screen or from the e-mail which will be sent to your e-mail account.  You need to present this to gain entrance to the Parks.
Click to enlarge.