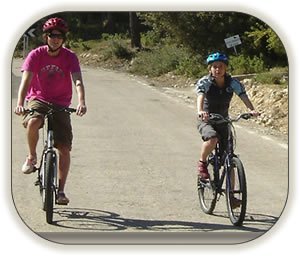 The Downhill Bike Ride - An unforgetable experience!
This Downhill bike ride descends 35 kilometres down the Sierra Aitana Mountain, the highest mountain on the Costa Blanca and finishes in a picturesque village in the area.
You will be picked up from your hotel in the morning and taken up the Sierra Aitana Mountain to an altitude of approximately 1.100 metres from where the fun will begin!
The Downhill Bike Ride is suitable for all age groups with little exertion required.  The route takes you along tarmac roads, perfumed with pine, lavender and orange blossom.  These roads formed part of the Tour of Spain Cycling Race.
Your guide will inform you of the places and things of interest along the route. A perfect way to enjoy nature and the great outdoors without too much effort.
Every Monday, Wednesday and Friday picking up from the hotels at 09:30 and returning at approximately 15:30.
 Tickets must be purchased a minimum of 1 day in advance.

IMPORTANT:  please ensure that you print out your ticket from the screen or from the e-mail which will be sent to your e-mail account.   You need to present this to the guide on the day of the excursion.
 Click to enlarge.