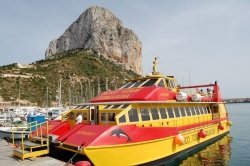 This excursion will surprise you; it gives you a unique opportunity to view the beauty of the Peñon de Ifach from a maritime perspective. 
Departing from Calpe's port aboard the "Vision Submarina", the trip allows you to see the sea bed around the Peñon and to photograph the underwater life that resides in this special area.
The Peñon is one of the most recognisable icons of the Costa Blanca.  Rising 332 metres from the sea, breaking up the Mediterranean landscape, on a clear day you can see the Balearic Island of Formentera from its peak.
Made of limestone, the Peñon covers 47 hectares and is joined to the mainland by a narrow stony strip of land. The rock is recognised all over the Mediterranean, it is one of the last foothills of the Betic Mountain range and was created by a geographical accident.
The beautiful and impressive Peñon was declared a Nature Park on the 28th of January 1987 due to the endemic flora that grows on its rocky ground and because of the Eleonora's Falcons, European Shags and Starlings that nest on the rock.
A fantastic opportunity to see this iconic area of the Costa Blanca on this boat trip.
This excursion depends on favourable weather conditions.
Departing from Calpe Port.  Calpe Port.
Address: Avda. del Port, Calpe
Tickets are valid for one week from the specified date, allowing you to choose the day of your excursion.