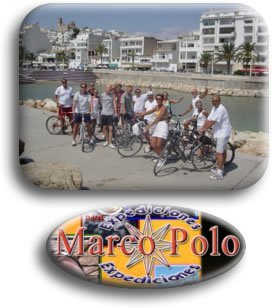 An enjoyable ride through urbanisations in the Rincon de Loix, Albir and Altea, accompanied by our friendly guide.

We will stop for a break in one of the many typical bars by the fish market in Altea Port, where you will have time for a coffee or a refreshment before returning to Benidorm.

On the return journey we will ride by orange, lemon and almond groves. This activity takes place in the morning, is a half day excursion and is apt for all ages. Total distance is 25kms. Also available bikes for children and bicycle seats for babies.
 Salidas a las 09:30 0 a las 14:00.  Departing from the Marco Polo Expedition Office.

Dont forget to bring some water and money to have a refreshment when we stop in Altea.
PRICES: Adults 15€ - Children 10€
Marco Polo Expediciones.
Address:- Avenida Europa 11, 03503, Benidorm, Alicante,Spain.
Children - up to 12 years of age
Starting point Marco Polo Expediciones, Saturdays and Sundays.
Tickets must be purchased a minimum of 1 day in advance.
IMPORTANT:- Print your ticket from the screen or from the e-mail which will be sent to your E-mail account.  You need to present this on the day of the excursion.
Click to enlarge.