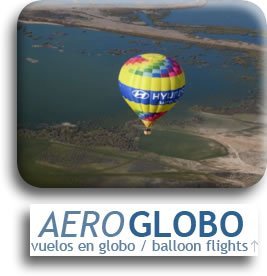 Aeroglobo, a pioneer company in balloon flights for pleasure within the Valencian Community, invites you to know more about us and what we have to offer. The flight that best adapts to what you are looking for: an adventure, a gift, a dream...

With more than twenty years experience, Aeroglobo offers you the joy of our flights in total safety. Guaranteed. Join us in small groups with a personal attention that will allow you to enjoy an unforgettable experience.

Every weekend we organize these flights in the Elche area. The flight takes place with others passengers up to a maximun of 8 people. If you want to form part of one of these flights, or wish to give as a present, make a booking as soon as possible.

Plan of events:
Pre-flight meeting:

In the early morning we will meet at the Meeting Point giving us the chance to get to know one another and leave for the take-off site.

Inflating the balloon:

With your help we will inflate the balloon, a truly spectacular sight.

Flight:

During the flight the passenger will experience many emotions. The coastline, the inland mountains or the rural palmgroves of Elche are just some of the beautiful landscapes which we will enjoy in a peaceful environment aboard our balloon.

Picnic and Toast:

Once our flight has ended, a refreshing picnic will be waiting for you to regain strength. To celebrate the experience, the pilot will offer a glass of cava as a toast and a certificate of the flight.
FLIGHT OPTIONS: 
Standard Flight-  shared with other passengers. 
Special flight couples - 2 people shared with other passengers.  flight + accomodation in bungalow privado in Camping Marjal Costa Blanca + spa & swimming pool (in summer).
Exclusive flight for 2 people.  Perfect for anniversaries, birthdays, marriage proposals etc..  Includes Flight  + spa.
Exclusive flight for 8 people -  Perfect for family events , birthdays.  Includes flight + spa. 
Flights must be booked at least 5 days in advance.
Access from Alicante and the northern areas including Benidorm.  Take the AP-7 motorway, exit 528 (direction Torrevieja) and exit 730 (Catral). At the first roundabout follow "Camping" signs. 
IF YOU ARE USING A NAVIGATOR Introduce Marjal Costa blanca Eco Camping Resort in Google Maps or Navigator.  IT IS ADVISABLE TO ONLY USE THE NAVIGATOR TO GET CLOSE TO THE AREA AND THEN FOLLOW THE MAP.  THE NAVIGATOR MAY NOT  BE ABLE TO TAKE YOU DIRECTLY TO THE LOCATION.
IMPORTANT: AEROGLOBOS MEETING POINT IS CAMPING MARJAL COSTABLANCA LOCATED 2 KMS FROM CATRAL VILLAGE.  CAUTION NOT TO BE CONFUSED WITH "Camping Marjal" in Guardamar.

Tickets must be purchased a minimum of 4 days in advance.

IMPORTANT:- please ensure that you print out your ticket from the screen or from the e-mail which will be sent to your e-mail account.    You need to present this on the day of the excursion.
 Click to enlarge.