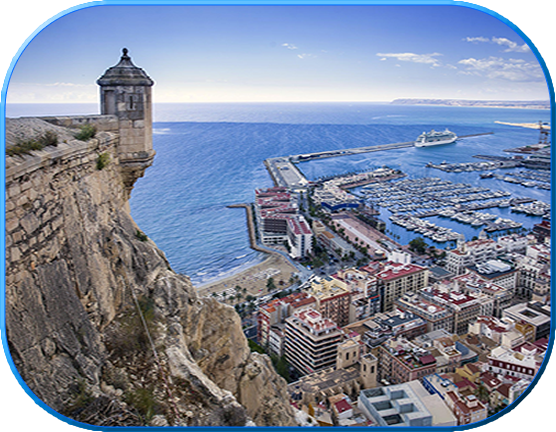 Day trip from Benidorm to Alicante with free time.

Visit the old town of Alicante known as El Barrio, which runs from the Co Cathedral of St Nicolas. The Co Cathedral situated in the city centre is Renaissance in style. Built in the 1600's it was built over an ancient mosque. Under its dome is the Chapel of the Holy Communion considered one of the most beautiful examples of Spanish Baroque architecture.
Modern and cosmopolitan, Alicante has secrets waiting to be discovered in every corner of the city. The charming port with a great selection of restaurants, pizzerias, bars, ice cream parlours, shops, etc.
Alicante province is known for its beaches, offering 15kms of coastline forming incredible beaches with fine sand and idyllic views
On the top of the Benacantil hill, 166 metres above sea level, is the Santa Barbara Castle, its strategic position permits views of the Alicante bay and the surrounding area. On the hillside Roman, Iberian and Bronze age archaeological remains have been uncovered.
The Castle is divided into 3 areas: the turret, where the old Tower of Homage is located. In this enclosure is the Bulwark, the Engineers Park, the Noble Room, (which was previously a hospital), the Governor's House, etc. Next, the intermediate enclosure, where the most important units are located: Felipe II Hall, Guard Corps, Bulwark of the Queen, etc. Finally, the lower enclosure, dating from the 18th century. There we can find the Revellín del Bon Repós, in which the monument to the illustrious Alicante soldier Felix Berenguer de Marquina is located.
There are also many museums in Alicante, the best known are the MARQ, the Archaeology Museum of Alicante and the MACA, the Museum of Contemporary Art, plus plenty of shops and department stores too for you to explore.
Also worth a visit is the Island of Tabarca, just off the coast of Alicante.  It is the only inhabited island on the Costa Blanca and from the port you can take one of the ferries that cross to the island daily or the City Tour bus tour which will take you around this beautiful city. 
Discover the city of Alicante and be surprised!