How to buy.
We would like to make it easy for you to purchase from us on line, therefore we have created a step by step plan to help you.
We would also like to remind you that we are always available to assist you either via  e-mail or telephone.  
Select the excursion you would like to buy using the arrow key to open the excursion options. Move the curser up or down to select the excursion type.
IMPORTANT: Some excursions have various types of entrance tickets on sale others only one type.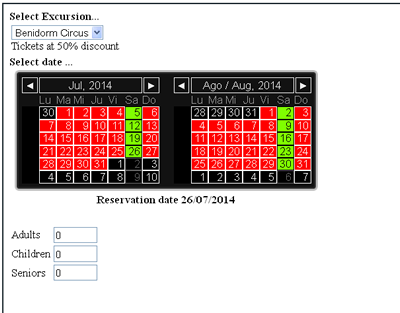 Select a date from the calendar.  Dates shown in green indicate the dates that the excursion operates.
When you have selected the date, it will appear on the screen, check that this is the date you require. 
Enter the number of adults, children and seniors required.  (Senior prices are not available on all excursions.)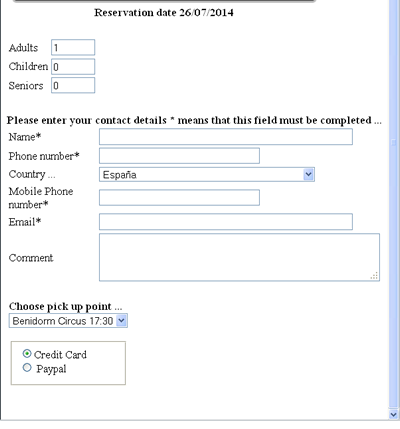 Complete the form with the information requested.   This information is important as it will appear on your ticket.  The name you enter will appear on your entrance ticket and a copy of your ticket will be sent to the registered e-mail address. 
If applicable select the pick up point and time from the list. 
Select payment method.           Click on Book Now.
If you select payment by card, you will leave our page and be taken to the electronic payment service of the La Caixa Bank.    If you select PayPal as your method of payment you will be taken to the PayPal website.
Enter all your details of your card or paypal account.  Follow the instructions on the screen in each case.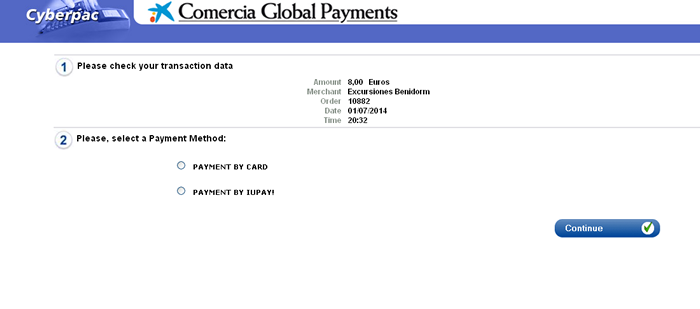 Once the payment has been completed you have the option of printing out your card/PayPal receipt.
IMPORTANT:  If you have paid with credit card you must then press the CONTINUE button to return to our website and generate the ticket. 
If you have paid using PayPal you will automatically return to our web site.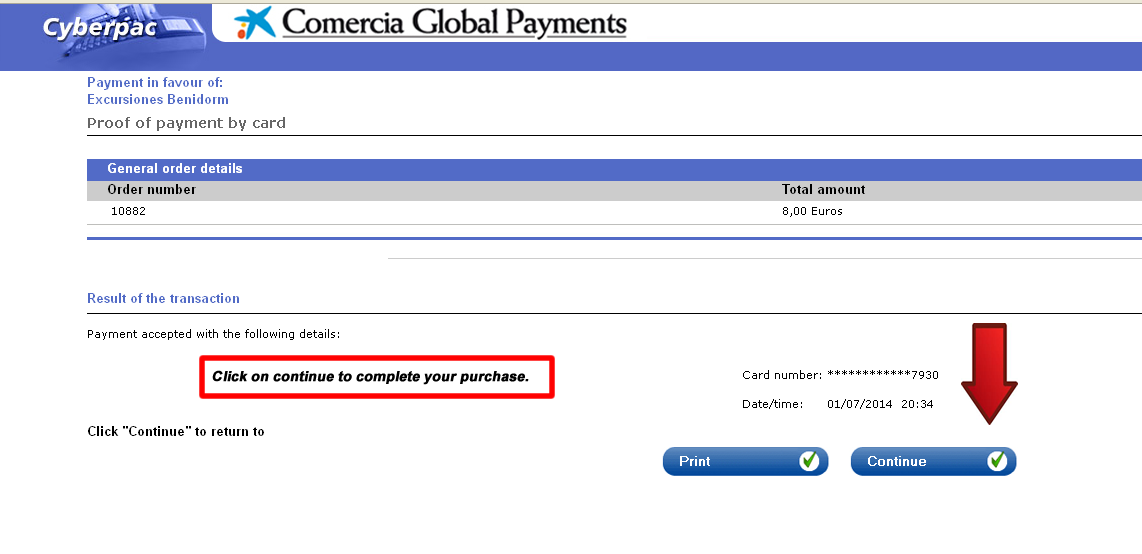 Your ticket will now appear on the screen and you have the option of printing it immediately or printing it out at a later time.
If you elect to print your ticket out later, you will find a copy in your e-mail inbox. 
If you elected to print it out immediately, you will also find a copy of your ticket in your e-mail in-box.
Should you need any assistance you can contact us by e-mail This email address is being protected from spambots. You need JavaScript enabled to view it. or by telephone + 00 34 649 96 63 53 from 09:30 – 22:30 (Spanish time).
IMPORTANT.  PLEASE ENSURE THAT YOU PRINT OUT YOUR TICKET.  YOU NEED TO PRESENT THIS AT THE EXCURSION VENUE TO GAIN ENTRANCE OR TO THE GUIDE ON THE DAY.
IF YOU CANNOT SEE YOUR TICKET, PLEASE CHECK THAT IT HAS NOT GONE INTO YOUR SPAM, JUNK OR UNWANTED E-MAIL FOLDER.
IF YOU ARE UNABLE TO PRINT YOUR TICKET. PLEASE CONTACT US BY PHONE OR DROP INTO OUR OFFICE.

 

 

< p>