Hiking route to the Punta del Cavall
This route forms part of the Sierra Helada Nature Park.  The asphalted path takes hikers through part of the park to the Punta del Cavall, where you will find the ruins of the watch tower, Torre de la escaleta or Torre de les caletes, with the sea accompanying you on one side and the mountain on the other.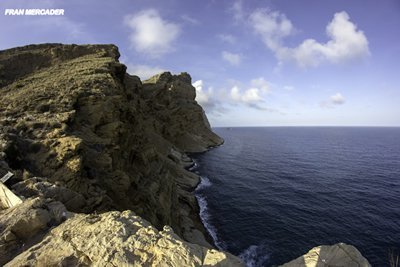 This path is the Benidorm entrance to the Sierra Helada or Serra Gelada (in Valenciano) Nature Park.   Closed to traffic, it is now a popular route with cyclists, joggers, fishermen, hikers and people exercising their dogs.
Up until a few years ago, you could drive your car right along to the watch tower but once the area was declared a Nature Reserve, local authorities decided to close the route to vehicles to protected the flora, fauna and the tower because of its historical value.
The route starts from a small stretch of open ground between the Tio Ximo Cove and the Almadrava Cove.  You can drive your car up to this point and park it there.
To access the starting point, you need to make your way to the roundabout at the end of the Levante Beach, then take the Calle Alcalde Manuel Catalan Chana up the hill. The start of the route is well sign posted "Parque Natural" and there is a chain restricting access to all vehicles from this point.
The route is about a 3 kilometre round trip and can be completed in an hour.
At the end of the route is the Les Caletes watch tower, also known as Torre Seguro or Torre Punta del Caval. Declared a National Heritage Site and to be of cultural interest, the tower was constructed under orders from Felipe II in the 16th Century to protect the village from pirate attacks.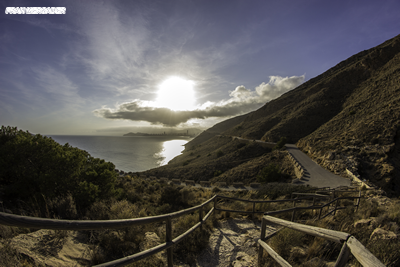 The tower is in ruins, added to the fact that it is on the edge of the cliff, it is advised not to get close to it in case of ollapse or landslide.
Another attraction of this route is the cliff face, over 200 metres in height, you can practically see the entire cliff face of the mountain from the route.
At the base of the cliff there are fossilised sand dunes formed over 75,000 years ago and the reason that the area was declared a Nature Reserve.
The route can be enjoyed all year round, although it is not recommended in the summer months as there are no shaded areas for refuge. The route is even, asphalted and is suitable for people with reduced mobility.