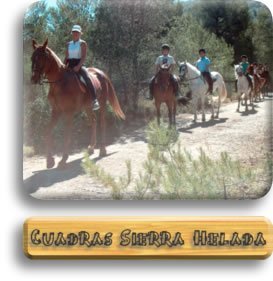 Book your horse riding Excursion.  - Reservations & excursion sales.

The Sierra Helada stables takes daily excursions into the countryside around the Sierra Helada Mountain.  The groups are small, no more than 8 people at a time, and the rides are easy, apt for riders with little or no experience.
 When you return to the stables the more experienced rider can ride some of the experienced horses in the riding school if they wish.


Children up to five years of age must always be accompanied by their family on a ride.  As from six years of age children are allowed to ride a small horse, perfectly trained and accompanied by a guide.

If the child can ride solo they can do so from the age of 10 with permission from the family and accompanied by a guide.
 
An experienced guide will walk along with the horse to accompany anyone who is nervous or unsure.
Inexperienced riders will be taught some of the basic concepts before the excursion takes place so that you can enjoy the excursion safely.
We advise you to wear long trousers that cover your knees, jeans for example and closed in footwear, not sandals.  We supply all riders with a riding hat.
One hour horse riding excursion accompanied by a guide.  
Once you have completed your purchase we will contact you by telephone on the number you have registered with us to confirm the time of your pick up and ride.
to Sierra Helada Stables.
Direction: Rancho Sierra Helada- Camino del Repetidor nº 5, 03581, El Albir,  L'Alfas del Pi.
GPS:  

38°33'23.7"N 0°04'39.9"W

Saturdays and Sundays excursions only in the afternoon.
Tickets must be purchased a minimum of 1 day in advance
IMPORTANT: Print out your entrance ticket from the screen or from the e-mail which will be sent to your e-mail account.  You need to present this at the Sierra Helada Stables.
Click to enlarge.