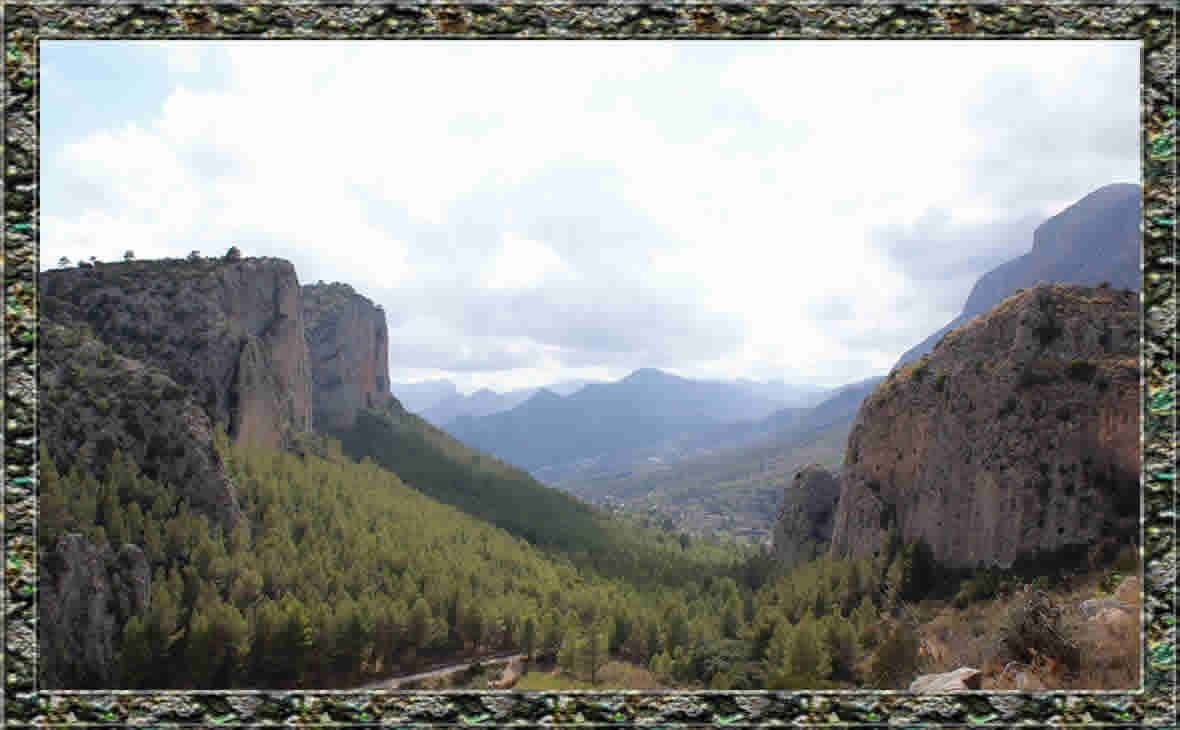 Beautiful guided hiking routes from Benidorm and the surrounding area.
Guided mountain walks with spectacular views, castles, caves and limestone formations with free transport included to and from your Hotel or accommodation in Benidorm, Albir and Altea.
The guided routes are designed for all levels of fitness from easy to moderate, moderate and moderate to strenuous. Routes include Tarbena, the Water walk in Sella, Sierra Bernia, Sella- Relleu Circuit and The Guadalest Reservoir Circuit.
Not many people know that the Sierra Bernia has an amazing tunnel eroded into the mountain and yes,  we do venture through it.   From there on clear day you can even see Ibiza!
The area is also rich in history, so as we walk, we will tell you tales from the past, from the Moors and Christians to the Greeks and Romans. Not to mention the wildlife and scenery. So the next time you look up at the Mountains surrounding this area, just think, you could be up there, with us!   Its so much easier than what you might think.
Walks are taken leisurely, so you can enjoy the suroundings and there are plenty of stops to rest and recharge your batteries. All the guided walks include free transport, guide packed lunch and water. There are also many other routes available on request.
We recommend that all walkers come fully equipped with:   Strong sturdy trainers or walking boots, adequate clothing, depending on the time of year and weather conditions and a light rain jackets.
Available routes : Easy walks. The Guadalest Reservoir circuit & Guadalest village (8 km), Sella – Relleu- Circuit (10 km), Tàrbena (8km) and Peña de Sella & Divino ( 10km) are classed as easy walks.
Easy to moderate walks include the Val deL'Arc (11km), Bolulla Castle (11km) , the Olta with amazing views of the Mascarat Gorge (11km) and Sella to Finestrat with the Pass of the Fox and the "Fonts de Moli" (14km).

Moderate routes include the Sierra Bernia Mountain (11km), The Buddhist Valley (10.5km), the stunning Puig Campana Circuit (11km) and the "Sleeping Lion" Ponoig Mountain (10km)
Moderate to Strenuous routes include the Sierra Aitaina Mountain Walk with Ice wells (11km), the Puig Campana (8km), the Montcabrer and the Castillo de Concentaina (18km) and the Cabezon de Oro and the Caves of Canelobre (15km)
Tickets must be purchased a minimum of 2 days in advance.
IMPORTANT: Please ensure that you print your ticket from the screen or from the email which will be sent to your e-mail address.  You need to present this to the guide.
Minimum age, if adults are in agreement and accompanied by an adult is 8 years.
Morning Excursions. 
Routes are subject to change depending on the weather.
Once we have confirmed availability with the Company we will contact you by telephone to confirm the pick up times from your accomodation.
Click to enlarge.