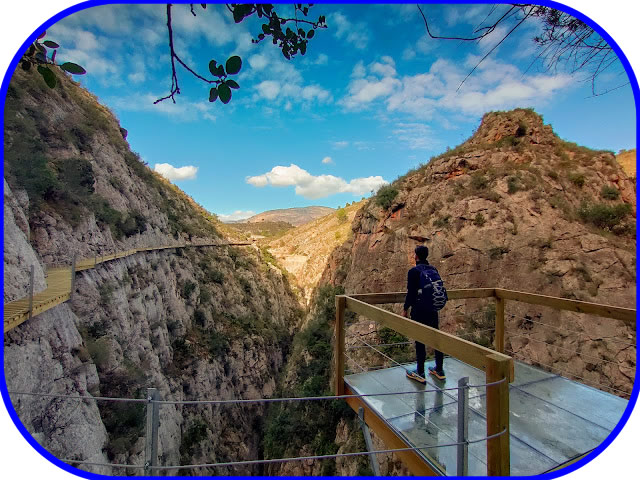 This beautiful hiking route is not for the faint-hearted!
Classed as an "easy" walk, it is not suitable for people with vertigo, but if you are up to the challenge our experienced monitors will accompany you on this adventure.
Relleu is nestled in the centre of a valley surrounded by the Cabezon de Oro  Mountain, reaching 1209 metres in height, the Sierra de la Grana Mountain reaching 1112 metres in height and the Sierra del Aguilar Mountain at 8,889 metres in height.    
During the month of February, the countryside bursts into colour with the pink and white almond blossom.
The easy walk is approximately 4 hours in duration, during which you will see the Relleu reservoir, one of the oldest reservoirs in Europe, the castle ruins which offer some spectacular views of the Costa Blanca, the Sierra Aitana and the Puig Campana mountains, and the hermitage of Saint Albert with the best views of the village.  
The wooden walkway, on the route, is anchored to the ravine wall, and suspended 40 metres above the River Amadorio.  It runs 212 metres along the ravine wall until the end where there is a glass-floored viewpoint with breathtaking views.  
Included in the price guide, transport and water.  Ration 1:8.
recommend that all hikers come fully equipped with :  Strong sturdy trainers or walking boots, adequate clothing depending on the time of year and weather conditions and a light rain jacket.
You will need to send us a copy of your passport via whatsapp or e-mail and your date of birth for the insurance.
IMPORTANT:- Please ensure that you print your ticket from the screen or from the e-mail which will be sent to your e-mail address. 
Click to enlarge.