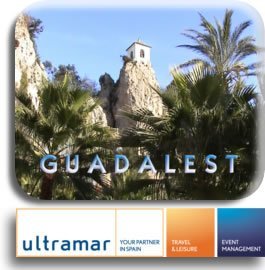 Tickets for the excursion to Guadalest - the Jewel of the Costa Blanca
Visit one of the oldest and most visited villages in Spain and the Costa Blanca.  Discover the enchanting and historic village of Guadalest.  A village which served as a fortress protecting the population during the 17th Century and which in 1974  was declared a historic site.   Guadalest is located on the top of a montain, surrounded by some of the highest peaks in the Alicante province such as the Aixorta, Aitana and Serrella mountains.

Important buildings include:  the Castle of San Jose, the Fortress of la Alcozalba, The Orduña house, the parish church and the prison from the XII century among others. The village is over 1000 years old and is steeped in history.  Not only is it famous for its Castle but for the resevoir which supplies water to the surrounding area, including Benidorm.
Although Guadalest is rich in agriculture, cultivating almonds, carob, olives, lemons and oranges, its main economic industry today is tourism.  Over 2 million tourists visit the village every year. There are little shops selling handcrafted local items including honey, nispero jam, leather goods and tipical souvenirs.  The village is full of unusual museums including the Antonio Marco Museum. 
There will be a stop at the famous Motor Museum on the return journey, where you can admire this private collection of motorcycles and small cars.   Entrance to the museum is not included.  Don't miss your oportunity to visit Guadalest.  This trip runs every Tuesday and Thursday except in August when it only operates on a Tuesday.  
INCLUDED: Tour escort/host, transport there and back with various pick up points in Benidorm.
NOT INCLUDED: Lunch and entrance to the museums which are optional. 
Tickets must be purchased a minimum of 2 days in advance.
IMPORTANT: Please ensure that you print out your ticket from the screen or from the email which will be sent to your e-mail address.  You need to present  this to the guide on the day of the excursion.