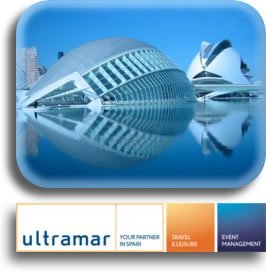 Valencia past and present

Valencia is the third largest city in Spain after Madrid and Barcelona, with one million inhabitants.
Situated in the centre of the Spanish Mediterranean coast it is the centre of the corridor uniting North Africa to South East Europe.
A city rich with cultural monuments and museums added to its gentle climate, have made it a continual attraction for tourists. In the last few years Valencia has experienced an unimaginable growth. The construction of the "City of the Arts and Sciences", museums, Opera houses and the "Oceanografic" by famed architects with "Calatrava" at the head, have changed the classic image of Valencia to one of a modern and pioneering city.

Internationally famous sporting events have based their headquarters in Valencia. The America Cup, the most famous round the world yacht race has held two of its finals in the capital. Today, as in Monte Carlo, Valencia has an urban Formula One circuit that attracts millions of followers to the area.

All this and more has converted the city into the inevitable destination for any trip to the Mediterranean.

Stroll through Valencia, and absorb the vibrancy of a city where prosperous historical tradition and interesting modern architecture stand side by side. 
Tickets must be purchased a minimum of 2 days in advance.
Pick up times are approximate.
Children 04 - 12 years of age.

Lunch is not included.
IMPORTANT: Please ensure that you print out your ticket from the screen or from the e-mail which will be sent to your e-mail account .  You need to present this to the guide on the day of the excursion.
Click to enlarge.