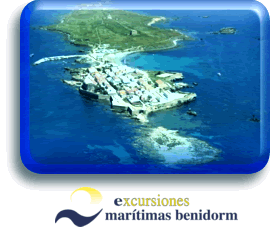 Tickets for the boat trip from Campello to Tabarca.
This excursion has two options to choose from  a visit to Tabarca with Alicante or just a visit to the beautiful island of Tabarca. 

Tabarca is the only inhabited island on the Costa Blanca, it has been declared a natural Marine Reserve. Tabarca is a fortified village from the XVIII Century under the reign of Carlos III. It has an important lighthouse for coastal navigation, pretty beaches and great local cuisine.

Must see tourist attractions, the church of St Paul, the Governor's House and St Joseph's tower. On the journey you will pass Villajoyosa, Campello, San Juan and Alicante.
This excursion depends on favourable weather conditions.
The boat departs from the Fishing port of Campello.