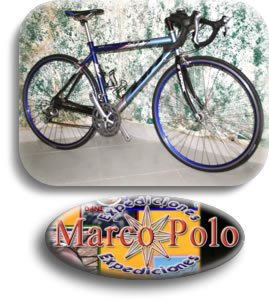 Reserve your bicycle here.

The province of Alicante on Spain's Costa Blanca is one of the most popular cycling destinations in Europe.
One of the main reasons is of course the climate.  More than 300 days of sunshine and during the winter months an average temperature of 20 degrees.
 Thousands of cyclists from clubs all over Europe train on the mountain roads in the province.  The famous "Coll de Rates" or the "Aitana Mountain Range" are among the most popular. This year even the "Vuelta de España" which is Spain's national cycle race passed through some of these areas.
 For those who enjoy cycling holidays.   Marco Polo Expeditions have a fleet of racing bikes with the new Volan 6.9 model complete with the top of the range components (Shimano 105 and 3 disks) all from the prestigious BH make.
 Prices are less than the cost of transporting a bike by plane and the cyclist can enjoy different routes locally and in the province of Alicante guided by a Garmin 605 GPS which is programmed with different itineraries.  At the end of the training session the cyclist can take a printed copy of their route or a CD copy.
Prices:

City Bike: 1Day-10€ ~ Weekend-18€ ~ 1Week-43€ ~ 1Month-95€
Mountain Bike: 1Day-12€ ~ Weekend-22€ ~ 1Week-58€ ~ 1Month-125€
High Range MTB: 1 Day-22€ ~ Weekend-36€ ~ 1Week-105€ ~ 1Month-300€
Racing Bike: 1Day-16€ ~ Weekend-29€ ~ 1Week-83€ ~ 1Month-230€

The 1,50€ that you pay as a deposit to make your reservation, will be discounted from payment when you collect your bicycle

. 
PRICE INCLUDES LOCK , REPAIR KIT, (tube, pump, tyre leavers) AND HELMET.
Garantee is required i.e a personal document such as passport.
Address: Avda. Europa nº 5,      030503 BENIDORM, Alicante, España.
Opening Hours: Monday to Saturday 09:30-13:30 and from 17:00-20:00 hours.
The reservation for the bike hire should be made a minimum of 1 day in advance .
IMPORTANT:- Please ensure that you print out your ticket from the screen or from the e-mail which will be sent to your e-mail account.   You need to present this to collect the bike.
Clic to enlarge.