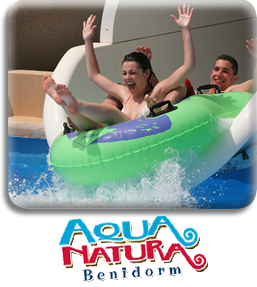 Tickets for Aqua Natura Benidorm
Fancy a dip in the Greek Isles?

A day out at Aqua Natura water park in Benidorm means fun and excitement for all the family.
This water park offers entertainment for the whole family with unrestricted views that allow parents to watch their children while they rest and enjoy the sunshine.
The park includes water slides, beach bars, and a swimming pool for children and visitors of all ages.
Feel the thrill of La Cresta, an enclosed water slide 15 meters, high that allows you to experience weightlessness.   Other attractions include the meandering Aqua Snake, the Rio Adventure descent, and half a dozen other unique attractions.
Try one of the unforgettable experiences while in Aqua Natura such as the sea lion experience or the school for mermaids and mermen! 
 When you purchase from this web site you have a discount of 5€



¡AQUA NATURA OPENS  MAY - SEPTEMBER.

  Aqua Natura.

Address:- Foia del Verdader 1, 03502 Benidorm, Alicante,España.
Local Bus from Benidorm nº 15
Opening times: Aqua Natura opens from 1030 a.m. May to 16th of September 2012.
Children 4 to 12 años
Your entrance tickets are valid for 1 week from the elected date so you can choose whichever day suits you best.
Tickets must be purchased at least one day in advance.
IMPORTANT:  print your ticket from the screen or from the email which has been sent to your account.  You need to present this at Aqua Natura to gain entrance to the park.
Clic to enlarge.