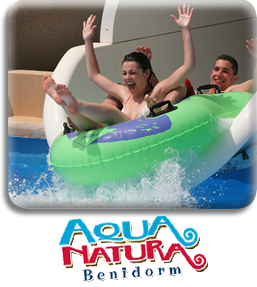 Tickets for Aqua Natura Benidorm
Fancy a dip in the Greek Isles?

The promenade at AquaNatura will guide you to the beach where you can stretch out in the sun and take a dip. Changing rooms, beach bars and more than 1.000 metres of thrilling water chutes and exclusive bathing areas for children will ensure you have a day full of fun and excitement!
Our water park of 40,000 square metres has been designed for EVERYONE to have a good time, with an emphasis on providing an open visual field so that parents can relax in peace while their children have fun playing in the water.
The lighthouse breakwater separates the beach area and chutes from the submarine world: the stunning aquarium of Mediterranean species features an underwater walkway that will make you feel like a fish yourself, with the added bonus that you can even swim with the sharks! If you dare!
Aqua Natura has five large sections: the wave pool, the water chutes, the children's pool, the lighthouse breakwater and the SPA and sun deck.
 When you purchase from this web site you have a discount of 5€



¡AQUA NATURA OPENS  MAY - SEPTEMBER.

  Aqua Natura.

Address:- Foia del Verdader 1, 03502 Benidorm, Alicante,España.
Local Bus from Benidorm nº 15
Opening times: Aqua Natura opens from 1030 a.m. May to 16th of September 2012.
Children 4 to 12 años
Your entrance tickets are valid for 1 week from the elected date so you can choose whichever day suits you best.
Tickets must be purchased at least one day in advance.
IMPORTANT:  print your ticket from the screen or from the email which has been sent to your account.  You need to present this at Aqua Natura to gain entrance to the park.
Clic to enlarge.