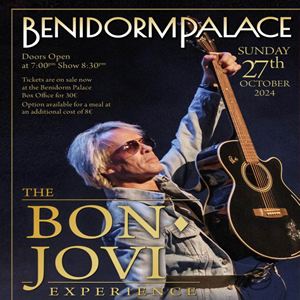 Are you ready to rock?  Then let's raise the roof!
The Bon Jovi Experience returns to Benidorm again, after the last popular appearance in 2023.  If you missed the last tribute show, don't miss this opportunity to rock the night away this time!
After 30 years on the road, the Bon Jovi Experience is back with a new production for 2024.  Tony Pearce is Jon, front man and founder of the group that demonstrates their musical skills and talentThe Bon Jovi Experience is like no other. 
An unrivaled tribute that will take you on a whirlwind tour of Bon Jovi's career, live at the Benidorm Palace on Sunday 27th of October  2024. 
Since 1994 the BJE has become the only band, requested by Bon Jovi himself, to perform live on stage with him, an amazing honour! Plus they have also been featured on the official Bon Jovi website.  
The band faithfully reproduces the epic hits and excitement of a concert with "Livin' On a Prayer", "Always", "It's my life" , "Lay your hands" etc.
So, "Raise your Hands" and let's "set the night on fire".
Click on the image to purchase your tickets!