Benidormoffers abicycle hire system introduced by the Council two years ago to promote the use of bicycles, with the aim to reduce pollution, energy consumption, and to promote exercise and the bicycle as an alternative way to get around the city.  Impursa took over the service which currently has 20 bike stations in Benidorm, although they aim to have over 40 in the future.

The Bike Stations or bases can be found at the following locations:
(click on the map to enlarge)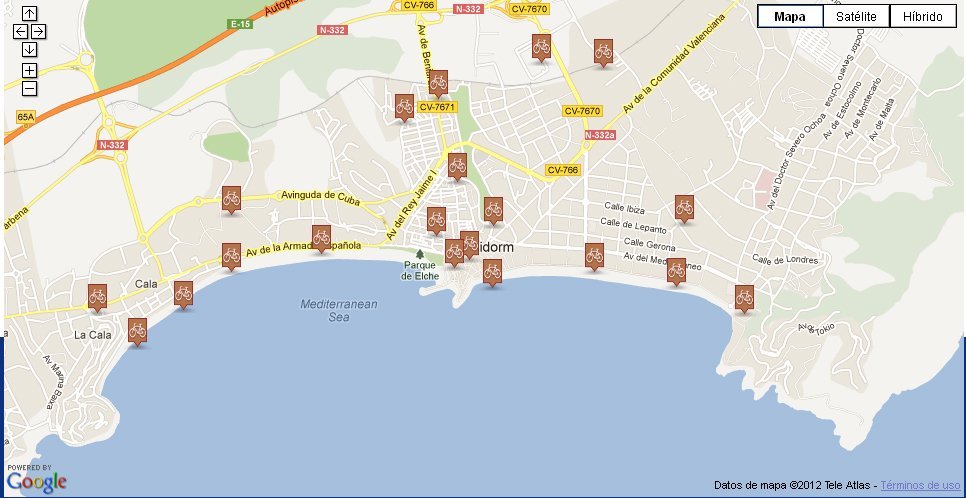 Avda de Benisa – Avda de Villajoyosa
Poninente Beach- Avda de Montbenidorm
Poninente Beach– Calle Murtal
Poninente Beach– Local Police
Vía Parque – Les Mediterrania
Estación de Tren-Benidorm Train Station
Centro Social Llorca Llinares
Calle Tomas Ortuño
Plaza de España
Ayuntamiento de Benidorm- Benidorm Town Hall.
Parque de Elche
Calle Mercado
Levante Beach – Plaza del Torrejó
Levante Beach– Avda Europa
Levante Beach – Avda Almeria
Levante Beach  -  Avda Atmella del Mar
Avda Derramador – Mercadillo Pueblo
Estación de Autobuses- Bus Station
Palau d Sports L' Illa.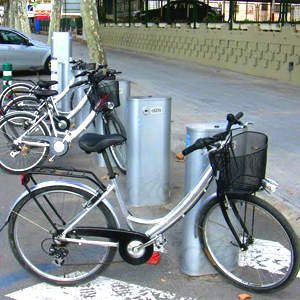 How to use:
The service is easy to use.  Go to any of the stations or bases in Benidorm where you will find a touch screen computer.  Follow the instructions on the screen, then take your bike ensuring it is in good condition and off you go. 
You can return the bike to any of the stations in Benidorm that has a space available and secure the bicycle by pushing the lock into the opening until it can go no further.  You must ensure that the bicycle has been locked securely in place.
The bike can only be used for two hours before it must be returned to one of the bases in Benidorm and half an hour must have elapsed before taking another bike out again. 
The service is available all your round, 24 hours a day, subject to availability.

Prices (as published November 2012)
There are four options:
One day pass               € 3
Weekly pass                € 11
Monthly pass               € 22
Yearly pass                  € 33

Fines will be applied if the return of the bike is delayed:
If  the return is delayed at least 30 minutes, one day fine.
If  the return is delayed 31-90 minutes, three day fine.
If the return is delayed between 91 minutes and 10 hours, one week fine.
If the return of the bike is more than 10 hours  late, one month fine.
If the user continues to return the bike late, they will be barred from using the system.

To find out more on the terms and conditions , consult the Web site  www.labici.net .

How to register:
Users must be over 14.  For those under the age of 18, permission must be given by a parent or guardian.
You can register via the website for long term rentals and will receive a registration form for you to fill in.
All daily, weekly and monthly rentals are done at the computerised bike bases in Benidorm.

If you would like to rent a mountain, city bike or racing bike (with or without GPS) click here for another alternative.