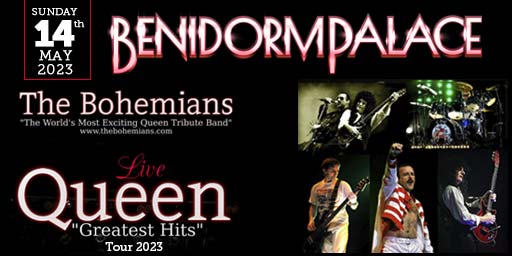 The Bohemians, a Queen "Look-alike" tribute band, could almost be the real thing.   Their ability to re-create, live, all the legendary Queen tracks, is exceptional.
A high-energy audio-visual tribute that Brian May described as "Brilliant" is accompanied by the outrageous stage antics and showmanship of their frontman. 
So many fabulous chart-topping hits such as the awesome Bohemian Rhapsody, We Are The Champions and We Will Rock You, will have you on your feet.
A memorable, live re-enactment of the World's greatest rock band.
Don´t miss this remarkable show live at the Benidorm Palace on Sunday 14th May 2023.  To purchase your tickets click on the image above.
Ticket prices are 30€ per person with an optional meal available for 8€ more.