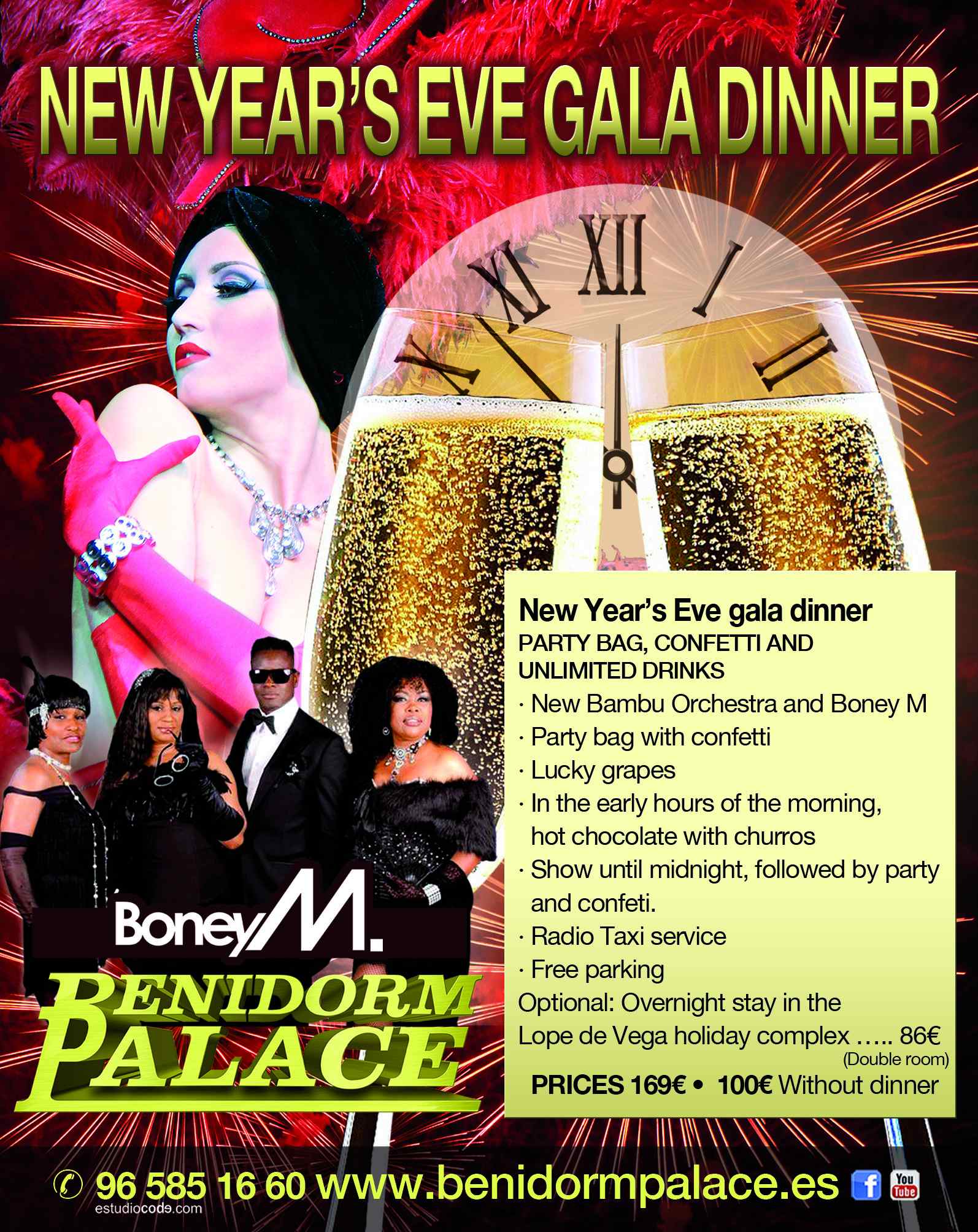 As New Year Eve approaches and everyone prepares to celebrate, Benidorm has plenty to offer for those planning a short break over the festive period.
One of those option includes the Benidorm Palace, voted "Best Night Club in Europe 2012", which offers: good food, live music, dancing and a cabaret show as part of the evening's entertainment guaranteeing that you see out 2014 in style and welcome in 2015 with a smile.
This year "Boney M" will perform as Guest Artists with "Rivers of Babylon", "Rasputin" " Daddy Cool" & all their hits from the 70's to get you on your feet. 
But the rhythm doesn't stop there……. New Bambu, Benidorm Palace's resident orquestra will make sure that you step,  however cautiously,  onto the dance floor.
The Gala Dinner with exquisite dishes including a Foie gras pyramid with quince, rosemary and honey essence, Seafood soup with sautéed prawns and chive dressing, lobster with American dressing and fillet steak with a reduction of Txacoli white wine sauce, soufflé potatoes and vegetables accompanied with good wine and cava.  Then a free bar all evening.
As the magical hour approaches you can enjoy two of the most popular Spanish traditions.  The 12 lucky grapes eaten during the count down to the New Year to guarantee 12 months of good luck and hot thick chocolate and churros to keep your energy levels up until the early hours.
Tickets are on sale from the Benidorm Palace Box Office or over the telephone on + 00 34 96 585 16 60 and are priced at 169€ for the dinner and show and 100€ without the Gala Dinner.
Thirty seven years after its debut opening, Benidorm Palace,  dresses the city of skyscrapers for the gala event of the year.