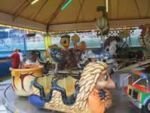 Do you remember the excitement you felt when the visiting the fun fair?
Relive those moments with your children in this "kiddie park".   While they are enjoying the rides you can watch and relax on the benches provided.  
Benidorm Excursions recommends some quality family time with the little ones in Festilandia Benidorm.
Information:
+00 34 965 852 183
+00 34 965 854 126
Avenida del Mediterráneo, 20