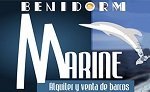 Ever dreamt of sailing on a hot summer's day and feeling the sea breeze cool your hot skin?
Benidorm Marine could make your dreams come true with boats that you can hire with or without a licence.  
Enjoy the freedom of sailing in one of their boats, one suited to your capabilities. Different sizes and types on offer, you decide the destination and company to take along with you.
Design your own experience, select your own crew from family and friends and become a Captain for the day.
Boat hire - with or without a licence:
Try the "
Princess
" no licence needed.
benidormmarines.es

Rincon de Loix Benidorm
Tel +00 34 722 482 828
Tel +00 34 966 804 344
Tel +00 34 664 115 790