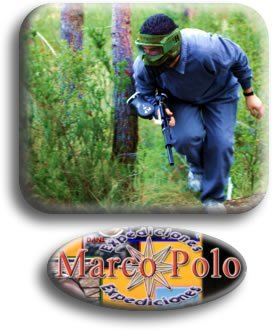 Paintball Benidorm is located approximately 1 km from Benidorm, in our private fully equiped paintball field.  Three different games to choose from : Nike Town, The Farm and the Kamikaze. 
We provide all the equipment: up to date equipment, glasses, masks, boiler suit and guns with approx 200 bullets. (Reloads are available 100 for  5€).
Bring: good shoes and a lot of adrenaline. Basic rules of the game are that if you are shot, you're dead and out, until the next game.

Individuals are also welcome to join teams! At your arrival, 2 teams of 3 to 10 participants will be formed who will then try to eliminate each other by shooting little harmless balls at each other with special compressed air - rifles.
PRICES: with transport 30€/person pick up from your hotel -  without transport 25€/person
Join us now!
A minimum of 6 people are needed to start a 'Battle'.
Starting point Marco Polo Expediciones daily mornings or afternoons times to be confirmed.  
Tickets must be purchased a minimum of 4 days in advance.
Same price for adults or children.
Address:  Avenida Comunidad Valenciana KM 140.  Behind the Penelope Discoteque.
IMPORTANTE:  please ensure that you print out your ticket from the screen or from the copy which will be sent to your e-mail address.  You need to present this on the day.
 Click to enlarge.