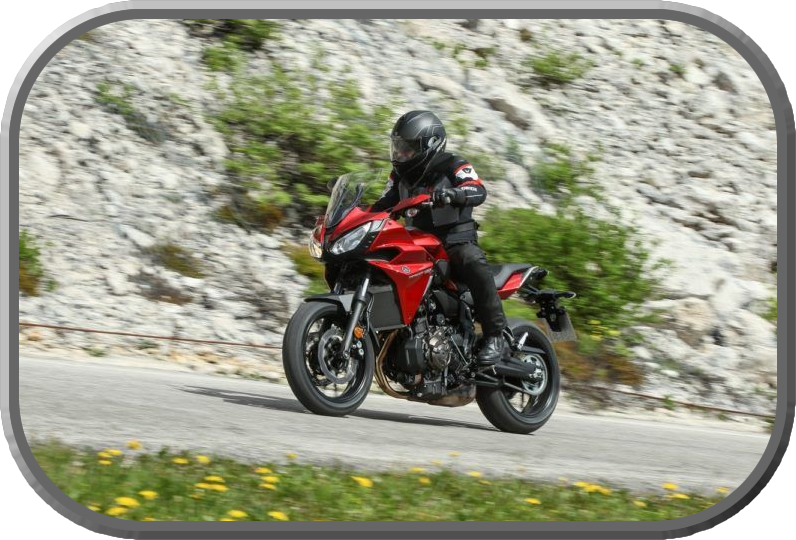 Do you live to ride or ride to live?  If so this may interest you!
How about a guided Motor Bike Tour riding along the mountain roads of the Marina Alta and Marina Baixa areas of the Costa Blanca.   Leave the stress of the city behind as you ride along windy moutain roads, immersing yourself in nature astride a Yamaha Tracer 700 or a Yamaha Super Tenere 1200.  The asphalted mountain roads have little traffic and take you to an altitude of 1500 metres.  Choose your route from the three spectacular routes on offer..

Route 1: Guadalest and the Motorcycle Museum (4 hours).   Riding south east to the Algar River with its cristal clear water and pure mountain air, then on to the spectacular mountain village of Guadalest.  Your first stop is at the fantastic Motorcycle Museum with over 140 items on display, the majority of them motorbikes.  Then you have time to visit the legendary fortress of Guadalest, built by the muslims on a rocky outcrop, offering incredible views of the Guadalest Valley and the resevoir below.  Descending down to the resevoir on your Motor Tour,  you can admire the turquoise water and the surrounding valley before riding your motorbike back to Benidorm.
Route 2: The Caves of Canelobre (4 hours).  Riding out  in the direction of Finestrat to the magestic Puig Campana Mountain. You continue  inland, riding along the windy moutain roads with incredible views, passing Orxeta & Relleu to the village of Busot.  The Caves are situated about 700 metres above sea level and are accessible via a 45 metre tunnel, where water and the rock have created some impressive formations.  Admire the spectacular 70m high vault inside the 80,000 square metre cave, adorned with stalegmites.  

Route 3: Mountains and Valley - Benidorm, Alcoy, Xàtiva, Valencia (7 hours).  Riding in the direction of Finestrat to the majestic Puig Campana mountain, the route continues inland along the twisting country roads, discovering the moutains and valleys.  Passing Sella, Alcoy, Xativa to Valencia.  In Valencia there is a visit to the City of the Arts and Sciences and the Royal Marina  where you can enjoy a traditional Valencian Paella and relax ready for the return journey

Requirements.  Rider to be over 26 years of age over 14 years of age for the passenger.
A current passport must be presented.


You must have and be able to present an A2 or clase A driving license.

You must have driven a 650 cc or larger before.

Credit card for the deposit.
We recommend that you bring jeans, sun glasses & a camera.
Included:  crash helmet, gloves and jacket.
IMPORTANT: Print out your ticket from the screen or from the email you will receive to hand to the guide on the day of the excursion.