A natural paradise.  Full day excursion to Elche, Alicante & Santa Pola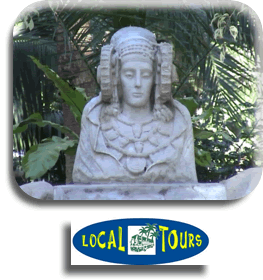 Looking for a change of scenery?  This excursion will help you to do just that!
The first time you see the incredible images of the Salt ponds in the Santa Pola Nature Park, your interest will be sparked.  The large pink tinged salt lakes in different stages of evaporation, make the perfect stop for migrating birds looking for food.  The salt ponds form an important part of the eco system and Flamingos return year after year to spend the winter months. See the mounds of extracted salt, tons of it in front of your eyes, which is an important part of the local economy, all from the coach on the panoramic tour.   On arrival in Santa Pola you have a visit to the Aquarium, located close to the port.
Your day continues in Elche, where you will visit the Palm Grove, declared a UNESCO World Heritage Site in 2000.  Over 200,000 palm trees and "Sissi" the eight trunked phenomenon named after the Empress Sissi.  Enjoy a walk among the palm trees and exotic plants or cool off in the shade on hot summer days.
Elche is also famous for the Mystery of Elche. A religious drama from the 15th Century which is performed in the Basilica of Santa Maria every August.
The last visit of the day is Alicante, where you will have free time to explore at your leisure around the port or along the promenade.
Includes:  Entrance to the Aquarium in Santa Pola and  the Huerta del Cura in Elche.
Tickets must be purchased at least 2 days in advance.
Children 3 - 12 years.
IMPORTANT: Please ensure that your print out your entrance ticket from the screen or from the e-mail which will be sent to your e-mail account.  You need to present this to the guide on the day of the excursion.