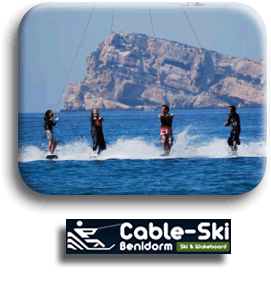 Ticket Sales for the Benidorm Cable Ski. 

CABLESKI-Benidorm is a sports school, teaching water ski-ing and wakeboard.   Operational since 1966, it has been a pioneer in its sector  for over forty years and it continues today offering you fun and sporting activities.   Enjoy Water skiing, wakeboarding or kite surfing whether it's your first time or whether you are already an expert.      Located on the Levante Beach in  Benidorm,  in one of the most beautiful regions on the Mediterranean coast.  Benidorm is a unique city,  with endless leisure and sporting activities.   CABLESKI -Benidorm offers you the opportunity  to enjoy a sport,  for all ages,and the only thing you need to know is how to swim.   The children´s school, is for children from 6 years old  and has been very popular in the last few years, as waterski-ing and wakeboarding have risen in popularity.  An addictive sport which brings clients back year after year.    CABLESKI permits twelve skiers to ski at the same time and there are also platforms  or ramps to use to jump and practise spectacular tricks.   Perfect for groups/ friends looking for fun and sports in beautiful surroundings.  Apt for all ages.   You must be able to swim.
Included in the price lifejacket, helmet, skis, instructor.

  Cable Ski Benidorm.

Address:- Playa Levante s.n, Rincon de Loix , 03503, Benidorm, Alicante, España.
Open from April to October.
Tickets must be purchased a minimum of 4 days in advance.
IMPORTANT: Print out your ticket from the screen or from the e-mail which you will receive in your e-mail account. You need to present this at the Cable Ski.
 Amplía las imágenes haciendo clic sobre ellas.