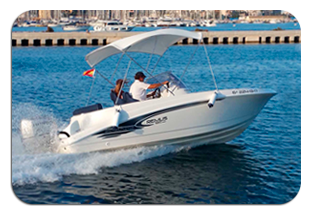 If you have always dreamt of spending a couple of hours or a whole day with family or friends aboard a boat, this unique experience is perfect for you.  Enjoy the freedom of sailing away from the masses and contemplate the spectacular coastal views along the way. Pure Luxury!
Relax aboard one of our boats with or without a skipper for 2, 4 or 8 hours. Relax, swim, snorkel, sunbathe or try your hand a paddle surf.
If you are thinking of a day at sea, then the 8 hour excursion is perfect. Take a cooler box with your picnic and drinks to enjoy aboard, you may even be lucky enough to see some dolphins along the coast.
You can hire the smaller Remus 550 with or without a nautical license. It has a 15 CV Selva Marine engine and measures 5,5 metres in length. If you are hiring the Remus 550 without the skipper the capacity is for 6 passengers and you must leave a deposit. If you prefer to hire with our skipper the capacity is for 5 passenger + the skipper and no deposit is required.
The larger Remus 620 has a capacity for 8 passengers, measures 5,99 metres and has a 100CV Yamaha engine. To select his option, you need a nautical license and also must leave a deposit. If you prefer to hire this boat with a skipper the capacity is 7 passengers + the skipper and no deposit is required.
All boats depart from the Campomanes Marina in Altea.  If you have a car we will send you the address and location once the reservation is confirmed.  If you would like to hire a car click on the Centauro banner at the top of the page to book.  If you require transport to and from Campomanes you can also book that when making your reservation.
It is also posible to complete a course to obtain a Spanish Nautical license and then hire a boat during your holidays.  For more information on how to obtain this license click here.
We are located close to the major hotels and apartments in the Rincon de Loix, close to the Hotel Pelicanos, Ocas, Flash, Rosamar, Ambassador, Riviera Beach, Port Benidorm, Nereo, Melia, etc.. 
Prices include Gasoline and Skipper. 

Also available for hire without a skipper with a deposit paid before you depart.  Then a current nautical license is required and gasoline is not included and is paid at the end of your excursion. 

Please be ready for boarding 15 minutes before the time of departure.  
IMPORTANT: Print your ticket from the screen or from your e-mail account to present at the Acronautica box office.
Click on the images to enlarge.