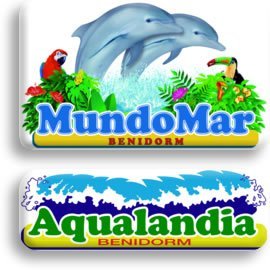 Ticket sales for Aqualandia & Mundomar with discounts.

Aqualandia means fun for all the family, with rides to suit all tastes.  The Big Bang, for example is unique, the largest water slide in a European park. The park has hydrotherapy areas with two jacuzzis next to the unforgettable Niagara, offering you the chance to relax.  Other rides such as the Pistas Blandas, the Kamikaze, the Zigzag, the Lagoon or the Rapids, ensure an unforgettable day out.This summer 2019 try Aqualandia's new water slide: Cyclón. It is 200m long and 36m high + 4 people can go on it at a time!!

Small children are not forgotten.  There are children´s areas with water games and small slides offering Mum and Dad  the chance to enjoy time with their little ones.
Mundomar is a theme park with exotic and marine animals set on the slopes of the Sierra Helada Mountain.  Abundant tropical vegetation and decoration take the visitor on a grand adventure.
Shows featuring parrots, sea lions and dolphins as well as various activities allow the visitor to play a leading role.
Exotic birds, flamingos, meerkats, otters, storks, swans, turtles, tortoises, lemurs, squirrel monkeys, penguins, owls, monkeys, and an aquarium are some of the other animals you will find in Mundomar. A full range of services complete your day out including a restaurant, self service, snack bar,  different kiosks, souvenir shops and photographers.
to Aqualandia and Mundomar.
Address:- Sierra Helada, s.n - Rincón de Loix, 03503 Benidorm, Alicante, Spain.   GPS 38º 32' 26'' N | -0º 5' 36'' E

Local Bus number 1 or 11.
OPEN MAY TO OCTOBER .
Opening Hours 10:00 A.M until 19:00 P.M.  Children 4 to 12 years of age.  Children under 4 enter FREE when accompanied by an adult.
IMPORTANT: -Please ensure that you print your ticket from the screen or from the e-mail which will be sent to your e-mail address.  You need to present this to gain entrance to the parks.
Click to enlarge.